All my guests say it; those copper pans look lovely in my kitchen. Yes, the vintage copper is classy, but looks are not everything. Copper cookware is much more than a style statement; they help you cook food to perfection too!
My experience buying and learning to use copper pans has not been an easy path. I learned the hard way that solid red copper is expensive, and many brands sell cookware that looks like copper but has only a layer of it or is just colored.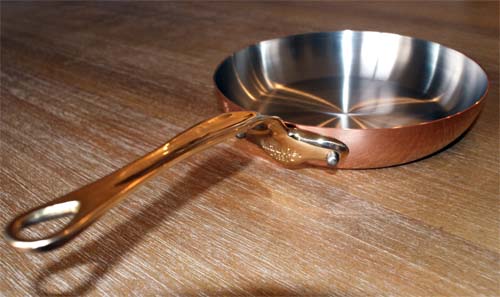 This article will introduce copper pans and pots and their outstanding heat management properties. We'll also tell you what to do to keep your cookware sets in excellent condition for a long time. And, as a special treat, we have gathered a list of many of the copper products offered together with their construction materials, so you know if you'll be getting solid copper, copper coatings, or just a colored pan or pot.
What is copper cookware?
Copper has been used to make pans and pots since ancient times. This soft but durable metal has extraordinary thermal properties, including superior conductivity, heat distribution, and responsiveness to changes in temperature. It also heats and cools down faster than iron and stainless steel.
Copper offers professional chefs the ability to manage cooking temperatures with high precision. That's why this cookware has become the favorite at high-end restaurants worldwide.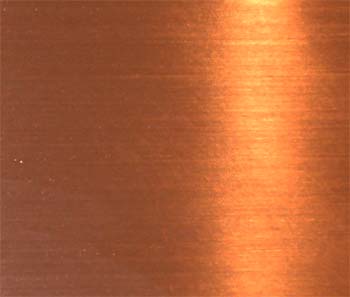 It is rare to find products made of pure red copper because this metal is highly reactive and can become toxic to diners. These days, most commercial brands in the market add a lining of tin, stainless steel, silver, or ceramic to their pans and pots to prevent food poisoning while keeping this metal's extraordinary thermal properties.
Is copper cookware oven-safe?
Yes, pure copper does not melt until 1983°F (1084°C), far less than the temperature that a regular oven can reach. However, you need to be careful when placing copper cookware in the oven because most copper pans and pots are lined or clad with other metals or materials that are not that heat resistant. For example, the tin lining will blister or melt at 450°F. Silver and stainless steel lining have a higher temperature tolerance at 800°F and 1767°F.
Would copper cookware work on an induction cooktop?
No, pure copper pans are not ferromagnetic, so they don't work on these stoves. You'll need to use an induction disk that contains a magnetic material if you still want to use this cookware on an induction stove.
Some brands build induction-friendly copper products with a fine layer or a magnetic material such as stainless steel added to the bottom of the pans.
Are copper pans and pots safe to use on glass top stoves?
Yes, copper is a soft material, and it is unlikely to scratch your glass. However, you still have to be careful when placing the cookware on the surface because some pans can get very heavy. Also, if the pan is overheated, the copper bottom may stain the glass.
How to clean and maintain copper cookware
Copper is a soft metal and requires more careful maintenance than most cookware materials. Here are some great tips to keep your pans and pot looking great.
Your copper cookware needs to be hand washed and hand dried immediately. Do not use abrasive soap.
You can clean food messes in unlined copper with vinegar or lemon and salt solutions. Be sure to rinse and dry immediately after doing it.
The exterior, especially the bottom, tends to change color after being placed on heat. Also, it is normal for Cooper to darken with age. Copper polish or a mixture containing ketchup and salt will restore the original good looks and shine.
Do not use bleach to clean copper cookware. Cleaners containing bleach and oven cleaners are corrosive and will damage your cookware.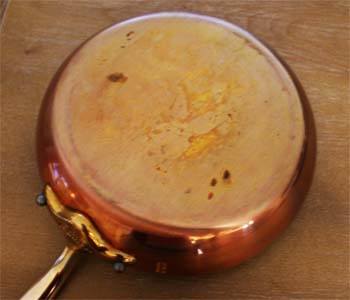 Do not leave lined pans empty preheating on a stove or oven. If they overheat, the lining can melt or release toxins.
Do not use metal utensils, scouring pads, or steel wool on surfaces lined with non-stick materials.
Is copper cookware dishwasher safe?
No, avoid washing copper products in the dishwasher. Many detergents contain harsh abrasive chemicals that may discolor the copper and cause tarnishing.
Is copper cookware non-stick?
No, copper is not a naturally nonstick metal. Most brands add a layer of some non-stick material, such as tin or ceramic, to the cooking surface as a lining to make it non-stick.
Is using copper pans safe for your health?
Pure copper can leach toxins into the food with the potential to endanger your health, causing liver, stomach, and kidney issues if used often. Pans are usually lined with other non-toxic materials to prevent copper poisoning.
How long does copper cookware last?
Pans made of pure copper are highly durable but prone to corrosion and easily scratch or warp. Those lined with other materials can get easily damaged when exposed to excessive temperature or when the cook uses the wrong utensils. We have included some great care and maintenance tips earlier in this article.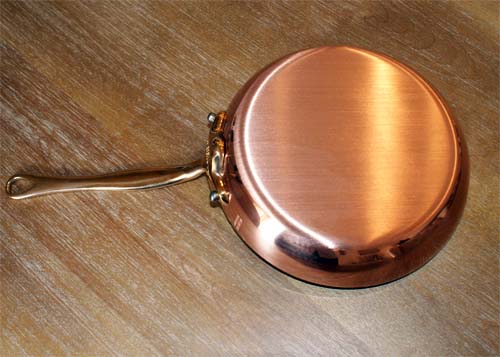 Some brands offer hammered copper products. Copper hammering is a common technique used to harden the material. This cookware has a more robust surface than its regular counterparts, making it harder to scratch.
Pros and Cons of Copper Cookware
Copper cookware advantages
Awesome-looking cookware sets. These pans give your kitchen a very fancy touch.
Possess outstanding heat conductivity and heat retention properties.
Cooks food evenly and responds fast to heat changes.
Thanks to copper high thermal diffusivity, pans heat rapidly and extremely evenly if thick enough. It also cools down fast.
Easy to clean with hot water.
it works on all stovetop types if the pan or pot has a clad bottom made of tin, nickel, or stainless steel.
Copper cookware disadvantages
Pure copper cookware without linings can poison guests over time or transfer metallic taste into the ingredients.
Traditionally crafted copper cookware can be very expensive.
They need to be polished often, or their looks become dull.
Not recommended for beginners, cooking with these pans requires some skill level.
Pure copper cookware can get pretty heavy.
Unless hammered, the copper surface dents, tarnish, and scratches easily
Food stick on unlined copper pans.
What is copper cookware used for
Due to its outstanding thermal properties, copper is used in high-end kitchens worldwide. Cooper reacts very fast to changes in heat, giving chefs superior heat control. Copper cookware is excellent for cooking meals that require precision while managing the pan temperature, such as fish, sauces, caramel, pastries, and cake making.
They are also great pans and pots for sautéing, browning, braising, pan roasting, poaching, and sauces or stock reductions.
Using copper cookware is not recommended for frying. You should also avoid preparing meals that contain acidic foods to the high risk of toxicity.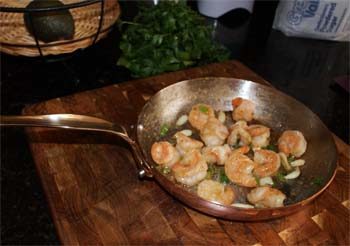 What brands currently offer copper cookware?
Evaluating brands and their cooper product offers can be pretty confusing. If you are looking for a product mainly made of copper, you need to know that pure copper cookware is usually handcrafted and relatively expensive. Commercial production brands also tend to have linings using extra metals.
Many brands sell copperware mainly made of other materials and include copper just as a layer or as an exterior.
You also need to be aware of brands that include the word copper in the product line, but their cookware does not contain any copper. These products look like copper (colored or hammered), but they are made entirely of other materials.
Below are many brands that offer pure copper, copper-coated, and copper-colored pans and pots.
Products that contain at least 90% of pure red cooper
Matfer Bourgeat -2.5mm solid copper. Lined with stainless steel. Made in France.
Mauviel  M'Heritage Line – 1.5 or 2mm solid opper options. Lined with stainless steel. Made in France.
Made In – 2mm solid copper. Lined with stainless steel. Made in France
Brooklyn Copper Cookware – 3mm solid copper. Tin lining. Handcrafted. Made in the USA
DUPARQUET – 3mm solid copper. Tin-lined or silver-lined options.Handcrafted. Made in the USA.
Ruffoni (Historia Hammered Copper line) – Hand-hammered copper. Tin-lined. They are made in Italy.
Williams Sonoma (Thermo-Clad Copper) – 1.2 mm solid copper. Stainless steel lined. Made in Italy by Ruffoni.
Aluminum or stainless steel products with copper inside
All-Clad Copper Core Stainless Steel – 5-ply construction. Copper core band. Aluminum. Stainless steel exterior.
Anolon Nouvelle Copper Stainless Steel – 5-ply construction. Aluminum. Cooper layer. Stainless steel base and exterior.
Hestan Copperbond – 5-ply construction. Copper core band. Aluminum. Polished copper exterior. Stainless-steel base. Made in Italy.
Aluminum or stainless steel products with copper exterior
Lagostina Martellata Tri-Ply Copper – 3-ply construction. Aluminum core, stainless steel. Polished hammered copper exterior.
Cuisinart Tri-Ply Stainless Steel in Copper – 3-ply construction. 80% stainless steel, 10% aluminum, 10% copper exterior..
Viking – 3-ply construction. Stainless steel interior, aluminum core, and hammered copper exterior.
Ruffoni Opus Cupra Copper Cookware – Copper-wrapped aluminum core, stainless steel interior, hand-hammered copper exterior.
BergHOFF Vintage Polished Copper – Stainless steel. Aluminum base. Polished copper exterior.
Products coated with copper alloys
Red copper – Aluminum with a copper-infused ceramic base layer.
Copper colored products that contain no copper
Gotham Steel's "Copper" line – Made of Aluminum with titanium and ceramic coating. Copper color.
Farberware Glide Nonstick Copper Ceramic – Aluminum construction. Ceramic coating. Copper color.