Are you looking for cookware that is long-lasting, efficient, and stylish? Anolon cookware might be just what you're searching for. This brand is popular among professional chefs and home cooks thanks to its advanced nonstick coating, lifetime warranty, and innovative technologies.
As a home cook, I'm always looking for quality cookware that can withstand regular use. Anolon cookware is a well-known brand in the market. I have personally used their pans and pots for more than 20 years. Recently, I have been interested in exploring their new products and collections to learn about their performance.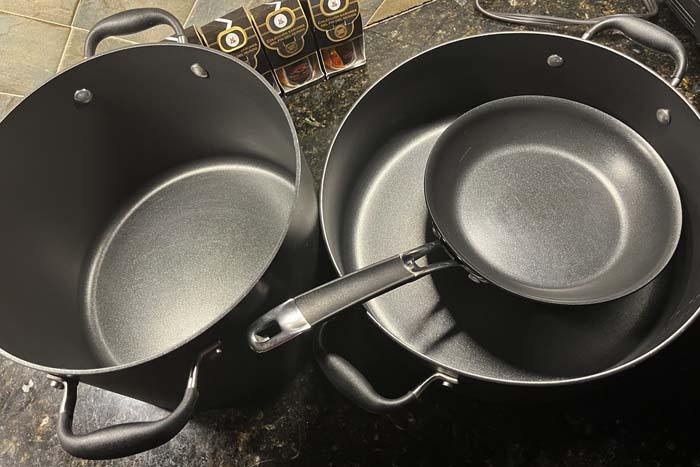 I have been satisfied with the durability and functionality of my cookware for more than two decades, although it may not necessarily meet everyone's specific needs.
Are the products this brand sells good for you? The purpose of this article is to help you answer this question.
I will provide information about the cookware sets, including their specifications, construction, and features. Additionally, I will conduct performance tests and analyze customer reviews to confirm the accuracy of the company statements.
These are the subjects I will cover in detail:
The product I tested
Does food stick?
Does the coating scratch?
Are the flat rivets useful?
Does the lid hold water?
Anolon Cookware Collections Available
Construction Materials
Characteristics of the Product Lines
Feature Comparison Chart
Trademarked Technologies
Where is the Cookware Produced?
Product Warranty
Price Vs. Competitor
Stores That Sell Anolon
How to Get Discounts
Anolon Cookware Feature Performance Tests
I will be testing a hard-anodized pan to confirm the validity of the company's product statements. In addition, I will analyze feedback from online reviewers to evaluate the legitimacy of their concerns.
The product I'm testing
I will be conducting my tests on a SmartStack 8.5-Inch Frying Pan. I will also carry out a test on a tempered glass lid.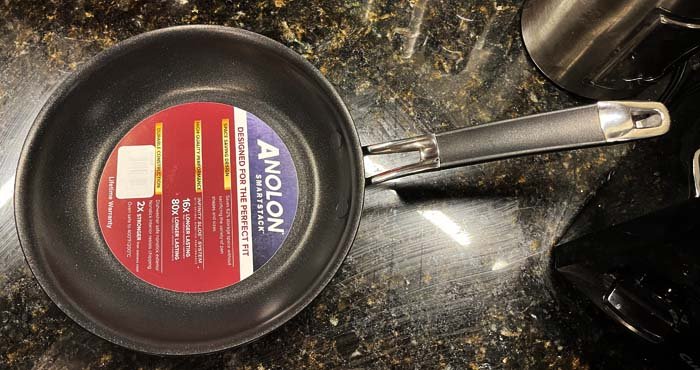 Why I chose this skillet?
This pan is constructed with two technologies commonly found in most Anolon collections. These patented technologies are intended to provide an edge over competitors' products:
A Sapphire-reinforced nonstick coating, referred to as Infinity Slide, is said to have a lifespan of up to 16 times longer than ceramic nonstick.
Unity Surface patented rivets have a stylish, smooth, flat design intended to prevent food build-up around them.
In the following tests, I will assess the performance of these features.
Test 1 – Is the cookware coating effective in preventing food from sticking?
Food sticking, particularly with eggs or omelets, is a frequent issue in online reviews. The company states that its sapphire coating is nonstick and advises cooking at medium temperature. We will conduct an experiment to determine if high temperature is a cause for food sticking to the pan.
The test
I cooked two eggs using two temperature settings on the stove in an over-easy style. I didn't apply any cooking spray or oil.
The results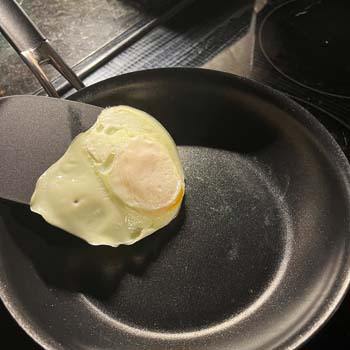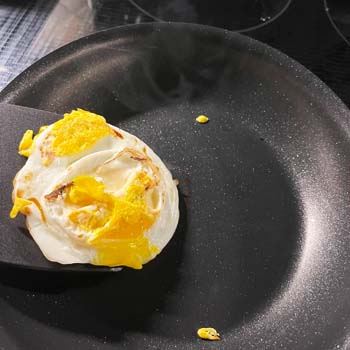 | Stove Temperature | Did They Stick? |
| --- | --- |
| Medium | No |
| High | Yes |
Conclusion
The food will not adhere to the surface of the recommended temperature settings are followed.
Test 2 – Does the coating resist scratches?
A frequent criticism in reviews is that the coating is prone to scratching.
The test
I conducted two tests, one using a silicone spatula and the other a metal fork, applying slightly more pressure on the pan than usual.
The results
Both tools created marks on the coating but with varying degrees of impact. The silicone spatula left light marks. The mark left by the fork is easily noticeable.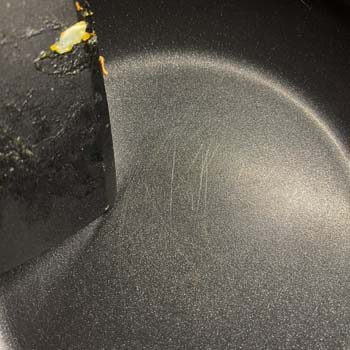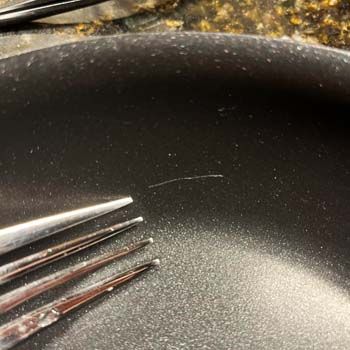 Conclusion
Using tools with some pressure can cause scratches on the pan. The coat is not resistant to scratches from metal tools.
Test 3 – Do the flat-designed rivets prevent food build-up?
Anolon asserts that their "Unity surface" rivets ensure food does not stick around the rivet joints and facilitate easy pan cleaning. Let's test it.
The test
I cooked additional eggs and placed them near the edges of the flat rivets. I conducted the same test on an All-Clad pan with traditional rivets. I waited for the cooking process to finish and inspected the rivets.
Then I hand-washed both pans.
The results
The surface rivets of the Unity pan I tested were not completely smooth. One was flush with the surface, and the other was slightly raised. This cause the food to build up around the raised one.
The pan with the regular rivets had some food stuck around the rivets' joints.
The pan with the Unity Rivets was slightly easier to wash than the one with regular rivets.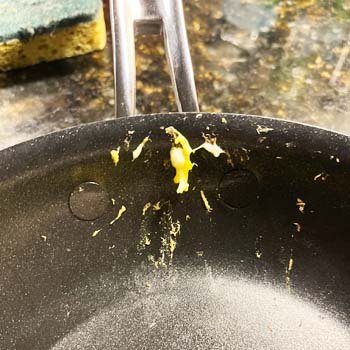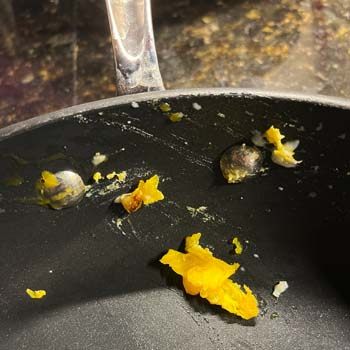 Conclusion
The effectiveness of the "Unity Surface" feature depends on the smoothness of the rivets. However, the advantages of this design are not significantly notable compared to regular rivet designs.
Tests 4 – Do the tempered glass lids hold water inside?
According to multiple reviewers, the glass lids retain water after being washed. Let's assess the validity of this claim.
The test
I placed the lid in my kitchen sink filled with water overnight. The next day, I dried the lid thoroughly and examined it closely.
The result
Water was present in small quantities between the glass and stainless steel frame.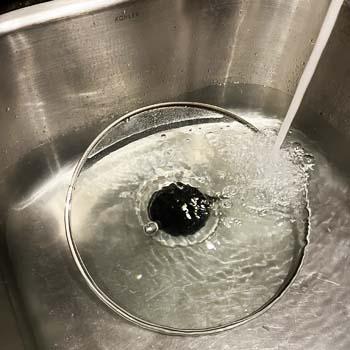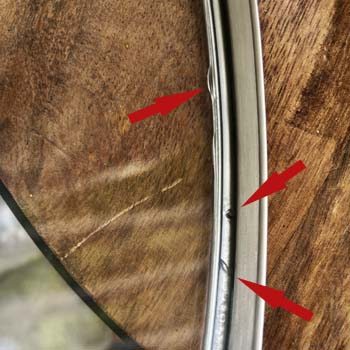 Conclusion
The complaints made by the reviewers are valid. The lids retain a small amount of water post-washing.
Current Anolon Cookware Lines
As of this page's last update, there were 12 cookware lines available. Let's discuss them.
What is Anolon cookware made of?
This company offers a range of cookware sets made from various materials, allowing customers to find the ideal product to meet their cooking needs.
Cookware from this brand is made using a range of materials, including stainless steel, hard-anodized aluminum, copper, and tempered glass. The type of materials chosen depends on the product line and whether or not they feature nonstick coatings. The materials used to make the pans and pots for each line are listed below.
Line
Construction Material
Nonstick Coating?
Handles
Material
X
Aluminum with stainless steel mesh
Yes
Stainless steel
Advanced & Advanced Home
Hard-anodized aluminum
Yes
Stainless steel with silicone grip
Advanced Tri-ply
Aluminum core between layers of stainless steel
No
Stainless steel with silicone grip
Allure
Hard-anodized aluminum
Yes
Stainless steel
Ascend
Hard-anodized aluminum with stainless steel base
Yes
Stainless steel
Nouvelle Copper
Stainless steel with copper core
No
Stainless steel
Nouvelle Luxe
Five clad layers of stainless steel, hard anodized aluminum, and a copper mid layer
Yes
Stainless steel
Nouvelle Stainless Steel
Stainless steel, aluminum, and copper core
No
Stainless steel
Accolade
Forged hard-anodized aluminum with stainless steel base
Yes
Stainless steel
Smartstack
Hard-anodized aluminum with stainless steel bases
Yes
Stainless steel with silicone grip
Tri-ply Clad
3-ply aluminum core between layers of stainless steel
No
Stainless steel
Anolon X is known for its innovative features, such as a surface perfect for searing and a stainless steel mesh. This cookware set can be considered one of the best collections produced by this brand.
General Product Line Features
Are Anolon pans and pots nonstick?
Most Anolon cookware lines are nonstick except those with stainless steel interiors (Advanced Tri-ply, Nouvelle Copper, Nouvelle Stainless Steel, and Tri-ply Clad).
Anolon coats several products with a sapphire-reinforced nonstick coating called Infinity Slide. According to the company, this coating is strong and withstands scratching, chipping, peeling, and wear.
The nonstick coating is made from PTEF, a material initially known as Teflon. This material is non-toxic and safe to be used on cookware as long as it does not contain PFOA. Anolon does not use the toxic PFOA in the coating mix.
What Anolon cookware sets work on induction stove tops?
Anolon adds a stainless steel plate when needed on many of the lines to make the products induction compatible. Advanced, Advanced Home, and Allure are the only three lines that do not work on induction stoves.
Are Anolon pots dishwasher safe?
Yes, according to the manufacturer, all the pans and pots produced by this brand (except Anolon Advanced and Advanced Home) can be safely washed in the dishwasher.
Are Anolon pans and skillets oven safe?
Yes, all Anolon cookware can go in the oven without getting any damage. However, there are oven-safe temperatures recommended by the company, between 400 and 500°F, (204/260°C) that vary depending if the products have silicone material included in their handles. Please see the comparison chart for details.
Can metal utensils be used with Anolon products?
The nonstick coating of Anolon is said to resist scratches caused by metal utensils, but my performance test indicates otherwise.
I prefer to avoid using them; there's always a chance that the coating can get damaged. Only a few lines will be exceptions in my case:
The Anolon X line features a stainless steel mesh on top of the bottom coating that protects the cookware.
All the lines have stainless steel interiors: Advanced Tri-ply, Nouvelle Copper, Nouvelle Stainless Steel, and Tri-ply Clad.
Feature Comparison Among Anolon Cookware Collections
Line
Dishwasher Safe?
Induction Compatible?
Oven Safe Temperature
Metal Utensil Safe?
(according to Anolon)
X
Yes
Yes
500°F (260°C)
Yes
Advanced & Advanced Home
No
No
400°F (204°C)
Yes
Advanced Tri-ply
Yes
Yes
400°F (204°C)
Yes
Allure
Yes
No
500°F (260°C)
Yes
Ascend
Yes
Yes
500°F (260°C)
Yes
Nouvelle Copper
Yes
Yes
500°F (260°C)
Yes
Nouvelle Luxe
Yes
Yes
500°F (260°C)
Yes
Nouvelle Stainless Steel
Yes
Yes
500°F (260°C)
Yes
Accolade
Yes
Yes
500°F (260°C)
Yes
Smartstack
Yes
Yes
400°F (204°C)
Yes
Tri-ply Clad
Yes
Yes
500°F (260°C)
Yes
Anolon Trademarked Special Features
The Anolon website regularly references distinctive elements found in its products. Here is a summary to help you understand the meaning of these concepts.
SureGrips – Sturdy silicone-made grips that facilitate comfort and a nonslip grasp. These silicone grips are included in the cookware handles for Advanced, Advanced Home and Advanced Tri-ply, and Smartstack.
SearTech – Surface that keeps cooking oil in the middle of the pan or pot. Includes a stainless steel mesh that protects the nonstick coating – better searing (like cast iron and retains and distributes heat evenly according to them). This technology is used in the Anolon X line.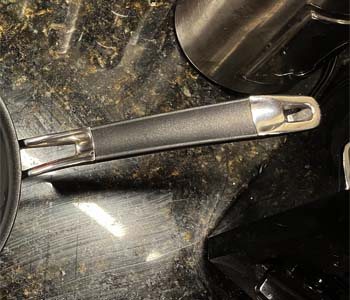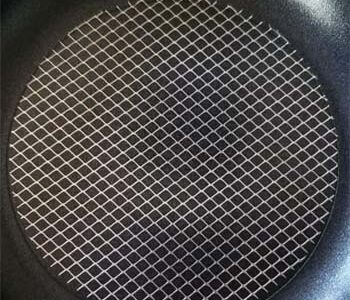 Infinity Slide – Sapphire-reinforced nonstick surface. The company claims it lasts 80x longer than a ceramic coating.
Unity Surface – Smooth, with no protruding handle rivets to avoid food sticking and make it easy to clean the interior of the cookware. The following lines include this feature: Ascend, Anolon X, Allure, Nouvelle Luxe, Accolade, and Smartstack.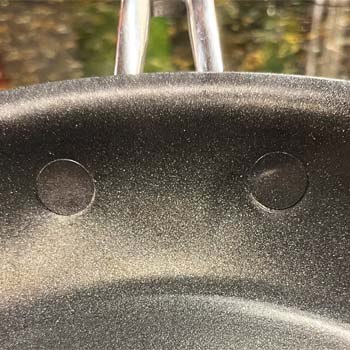 Who Makes and Distributes Anolon Products?
Anolon cookware is manufactured by the same company that produces several other popular brands, including Rachael Ray, KitchenAid, Circulon, and Farberware.
The company name is Meyer Manufacturing Co. Ltd., in business for over 40 years and headquartered in Hong Kong; this manufacturer is the second largest cookware distributor in the world. Meyer Manufacturing invented the hard anodized nonstick cookware concept. In the U.S. territory, the products are distributed by its subsidiary Meyer Corporation U.S.
Where is Anolon cookware made?
Most Anolon pans and pots are produced in factories in China and Thailand. None of the cookware sets and lines I researched or tested to write this article were made in the USA.
What is Anolon's product warranty?
Anolon offers a limited warranty covering the original purchaser's residential use for issues related to material or workmanship. It does not cover wear and tear or damages for incorrect use.
Knowing that using cooking sprays on nonstick products will void the warranty, is important.
All products sold by this corporation have the same warranty. You can check the warranty details in my previous article about Anolon bakeware.
Anolon warranties do not need registration. The company has a web page where claims can be quickly submitted for processing.
In case of additional information or help with warranties, you can always contact Anolon customer service by calling the Consumer Relations Department at 1-800-450-0156.
Purchasing Anolon Cookware
Price Range
Anolon pans and pots are moderately priced. The list price of a 10-inch skillet ranges from $25 to $99, dependent on the material and other factors. Stainless steel cookware is cheaper than hard anodized aluminum, except for the lines that contain copper layers.
Anolon's highest-priced line currently is Anolon X. This collection includes a technology that maintains the oil at the center of the pan to facilitate uniform searing. This product line also has a stainless steel mesh to protect against scratching.
The least expensive hard-anodized aluminum collection is the Anolon Advanced Home line. This collection costs around half of the price of the Anolon X line. However, these pans and pots are not dishwasher safe or equipped with Unity Surface rivets.
When considering the 10 to 10.5-inch hard anodized cheapest pan, Anolon falls into the middle-range pricing category at approximately $49.99, slightly below All-Clad at $59.99, and above Ninja at $45.99.
The prices listed below for the pans were accurate at the time of the last website update and are provided for comparison.
Average Price of a 10-inch Hard anodized Pan Per Brand
| Brand | Average Price |
| --- | --- |
| T-Fal | $24.99 |
| Rachael Ray | $29.99 |
| KitchenAid | $26.99 |
| Tramontina | $39.95 |
| Calphalon | $39.99 |
| Ninja | $45.99 |
| Anolon | $49.99 |
| All-Clad | $59.99 |
| Zwilling | $69.99 |
| Viking | $129.99 |
| Le Creuset | $129.99 |
| Vollrath | $229.99 |
Where to Buy
This brand's cookware lines are widely available online and in many traditional department stores, including Amazon, Costco, Macy's, J.C. Penney, and Dillard's, and on the brand's website. Specific new collections may be limited to specialty stores for some time. For example, upon launch, the Anolon X collection was exclusively available at Williams-Sonoma.
Where to Find Deals and Discounts
Discounts and sales are typical in the industry, often occurring when new collections are introduced, or existing products are discontinued.
Often, those who sign up to receive newsletters from Anolon.com can access discounts of up to 10% via coupon codes available on the brand's official website.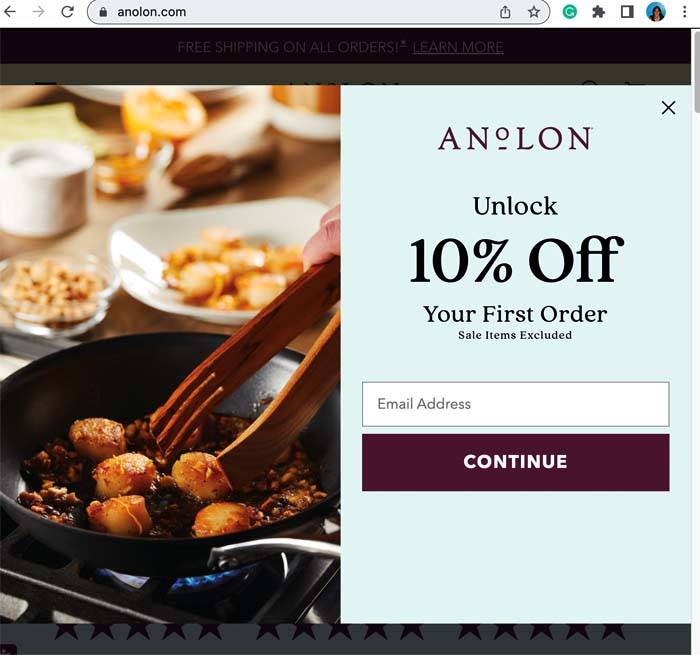 Are Anolon Cookware Sets Good For You?
Buy Anolon products if you:
Want products produced by an established company with a lifetime warranty.
Want quality at a reasonable price.
Don't have enough room to store your pans and pots; the SmartStack collection is ideal in this situation.
Are looking for a nonstick pan that you can use without any oils or butter. My test showed that when cooking at medium temperature, food does not stick.
Like handles with silicone grips.
Want induction-compatible cookware.
Like the convenience of washing pans and pots in the dishwasher.
Like the stylish look of smooth surface rivets.
Tend to use plastic or silicone utensils when cooking.
Are looking for products that'll endure for a long time. I have had Anolon pots for over 20 years; those used with care (no metal utensils used) are still performing well.
You may want to choose other brands if you:
Use metal utensils are used without care, the surface will likely scratch.
Have a limited budget.
Need to put cookware in the oven at temperatures over 400°F (204°C) or 500°F (260°C). The pan coating may peel off, and the silicone handles, if any, melt.
Need to cook on a stove at high temperature. Your food may stick.
Want tampered glass lids with vent holes.
Don't like small quantities of water getting stuck inside the lids.
Don't think paying a premium for smooth rivets in your pan is worth it.