Mauviel copper cookware is known as some of the best quality cookware available on the market. The Mauviel collections offer numerous sizes and styles of pots, pans, and more, which makes it easy to find the perfect pieces for your kitchen. Many professional chefs swear by Mauviel copper cookware for its superior performance, but is it really worth the steep price tag? Is the investment in this expensive cookware worth it for you?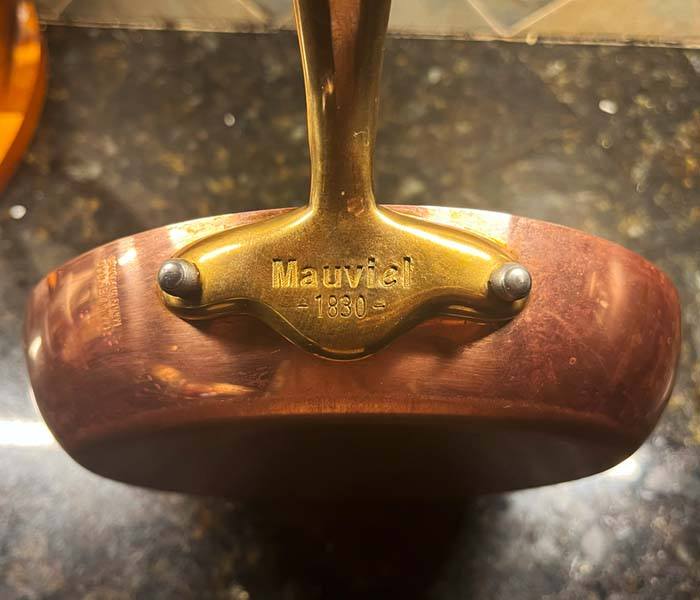 I'll help you answer these questions in this article. After conducting tests, I will describe the available copper collections, highlighting their unique features and briefly comparing them with other brands' products.
I will cover the following topics:
About Mauviel
Manufacturing Location
Pronouncing Mauviel in English
Product Warranty
Prices & Discounts
Stores That Sell Mauviel
Competition
Mauviel Copper Cookware Performance Tests
You may wonder if Mauviel's copper products perform in the kitchen. To answer this question, I'm conducting three performance tests on a piece of Mauviel's copper cookware, an 8.5-inch pan.
Copper has long been a favorite material for cookware due to its durability, and attractive appearance. These tests are designed to measure this brand's copper products' quality, and non-stick capabilities. Let's run the tests and analyze the outcomes.
The Copper Frying Pan I'm Testing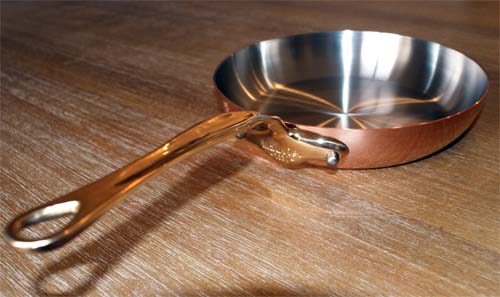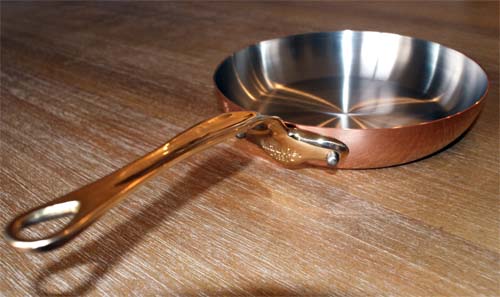 I will be conducting tests on the Mauviel 1830 M'Heritage frying pan. The specifications are as follows:
| | |
| --- | --- |
| Model | M150B |
| Construction material | 90-percent copper and 10-percent 18/10 stainless steel |
| Handles | Bronze |
| Diameter | 7.9 inches |
| Height | 1.4 inches |
| Made in | France |
| Thickness | 1.5 mm |
Test 1 – Is The Tin Lining Nonstick?
The test:
I am testing the pan's non-stick capabilities by cooking eggs without oil or spray at medium heat, prepared over-easy style.
The result:
The egg adhered to the tin surface, requiring an extended immersion in warm water and soap overnight to dislodge the food from the base.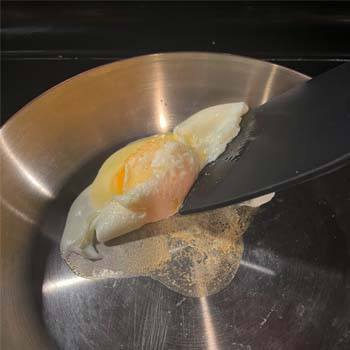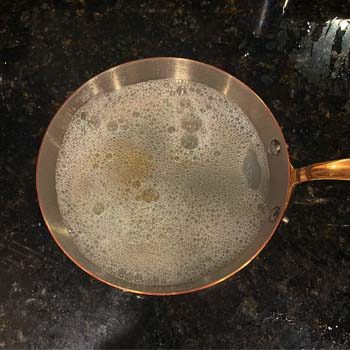 Conclusion:
The frying pan doesn't have a non-stick surface, so you'll need to use some oils, butter, or spray to make sure your food doesn't stick.
Test 2- Does the Pan Suffer Discoloration?
The test:
One issue frequently mentioned by online reviewers is a change in the color of the pan when exposed to heat, often turning blue or yellow. I plan to conduct an experiment by boiling water at two different heat levels (medium and high) to assess the accuracy of these reviews.
The result:
| Temperature | Any Discoloration? |
| --- | --- |
| Medium | No |
| High | No |
The pan did not show any discoloration at the bottom upon exposure to heat.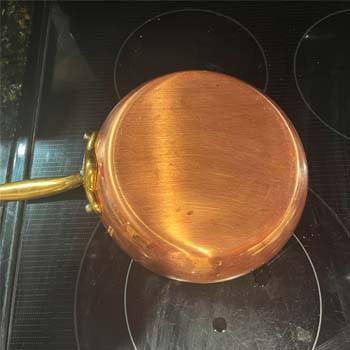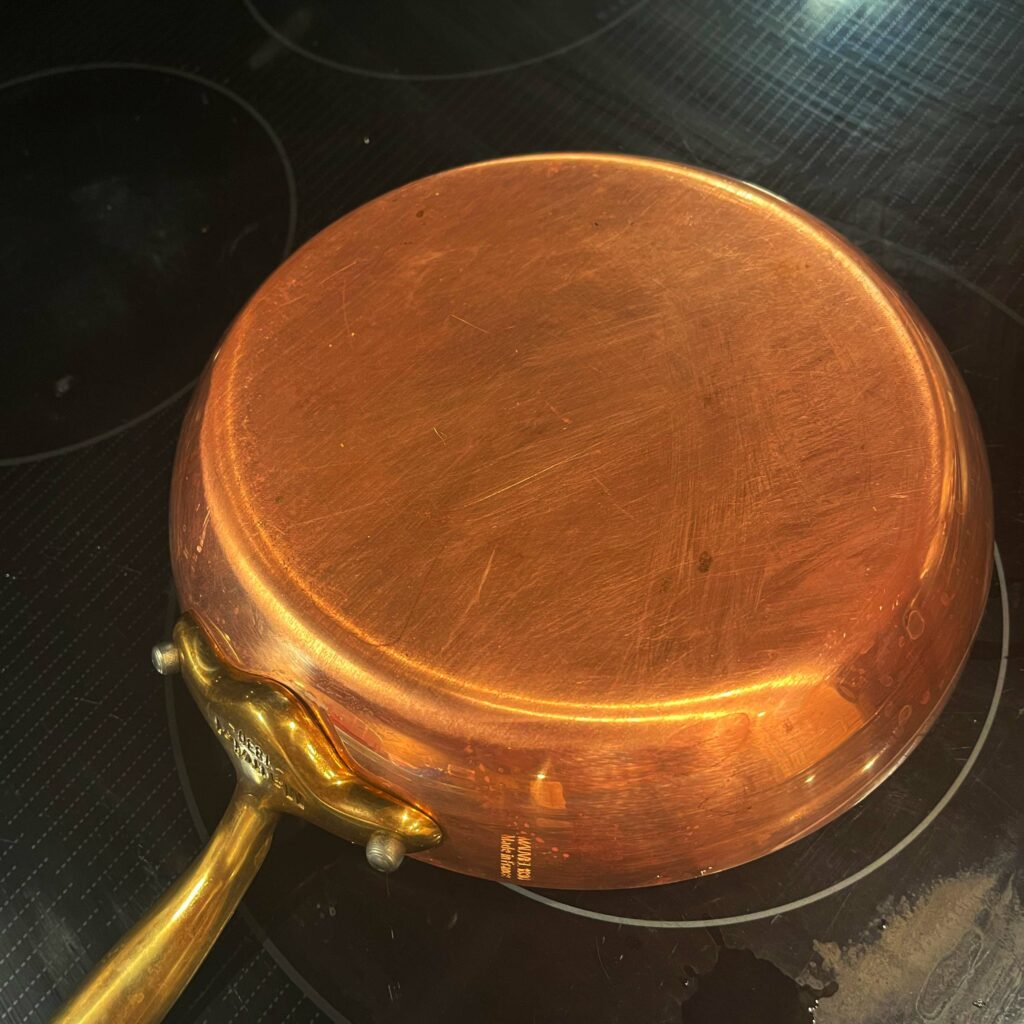 Conclusion:
The cause of the complaints mentioned in the reviews could be attributed to the pan being exposed to high heat for an extended period of time. It's important to note that the company advises against using high heat while cooking with these pans.
Note about Stains
I have been using this pan for several months, and it appears to stain easily. I have encountered two types of stains: one from leaving a pan on a damp rug and the other from regular usage. The first set of stains was able to be removed easily, but the second set required additional effort to eliminate.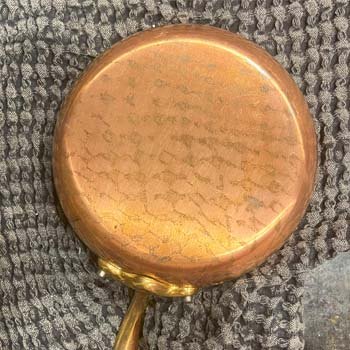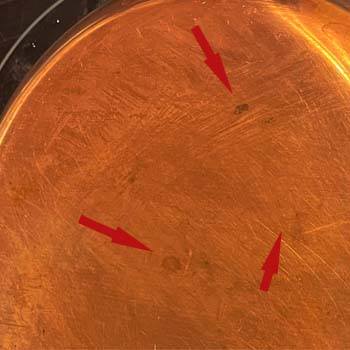 Mauviel Copper Cookware Collections
Mauviel offers a wide range of copper products, from traditional pieces to modern styles. Their collections include sauté pans, saucepans, stockpots, frying pans, roasting pans, paella pans, and woks.
Five collections feature copper products:
The M'Heritage 150B, 150S, 150CI, 200B, and 200 CI lines consist of 90% copper and 10% stainless steel cookware.
The M'6s collection includes pots and pans made of copper, stainless steel, and aluminum that are compatible with induction cooking.
The M'Passion is a collection of baking utensils featuring pure copper or copper products with tin lining, such as molds, sugar saucepans, jam pans, egg white beating bowls, etc
The M'Minis is a line of small cookware made of 80% stainless steel and 20% copper, including roasters and pans.
The M'Tradition offers special hand-crafted pieces, such as butter dishes and soup stations made of 100% copper with tin lining and hammered and polished exteriors.
Craftsmanship, Design & Looks
Mauviel's products are known for their superior quality, durability, and aesthetic appeal. The products are hand-crafted with high-quality copper, resulting in their exceptional quality and reputation in the global market.
Mauviel cookware is known for its classic and attractive design. All their copper products have a polished exterior, and some are also hammered. This brand's copper cookware has an elegant sheen that can add a touch of sophistication to your kitchen.
Materials and Coatings
Mauviel's copper products, excluding M'Minis, contain 80% or more copper. Products often feature high-quality stainless steel liners with a specific grade of 18/10.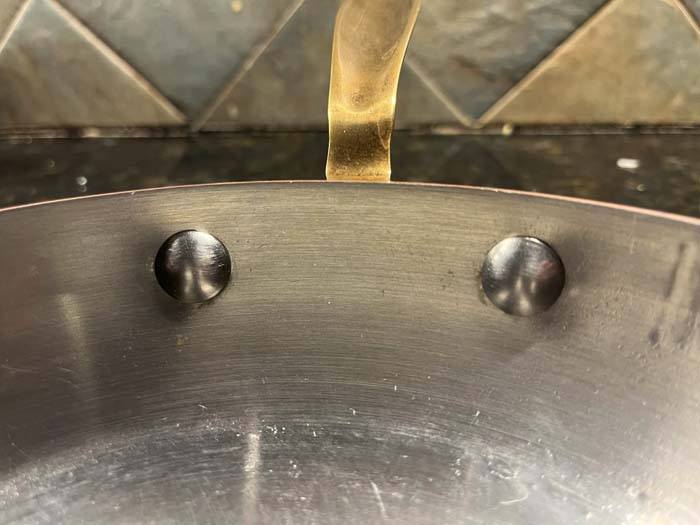 The Heritage line contains 90% copper and 10% stainless steel.
The M'6S line is designed for use on induction stove tops. Mauviel has developed a unique six-layer alloy of aluminum, copper, and stainless steel that utilizes copper as the base layer and works on induction appliances. This differs from the typical "sandwiched" copper layer with a stainless steel base used by competitors.
The M'Tradition collection includes exclusive copper pieces that are entirely made of hand-crafted copper with interior tin layers. Certain items feature hammered copper exteriors, while others only have a polished finish. The rivets in this line are composed of copper as well.
The M'Minis line, which consists of small products for meal presentation, contains only 20% copper. The items are mainly made of 80% stainless steel with a copper exterior.
The M'Passion products are a line of baking utensils that are made from a variety of materials. Items made with copper often consist of either pure copper or a high copper content with a lining of tin. Some products in this line include copper handles and rivets.
Product Thickness by Collection
| Mauviel Collection | Product Thickness |
| --- | --- |
| M'Heritage | 1.5mm suggested for home cooks and 2.0mm for professionals |
| M'6S | 2.7mm |
| M'Passion | Varies |
| M'Minis | Varies |
| M'Tradition | 2.0 to 3.5mm |
Lids
Depending on the collection, copper products with lids are equipped with bronze, stainless steel, or carbon steel handles. The heat resistance of handles varies depending on the material used. Additional information can be found in the following section.
The Heritage line includes lids with circular shapes that vary in size from 4.7 to 11 inches in diameter. The line also includes two universal lids, sizes 9.4 and 11 inches, that are suitable for use with any product.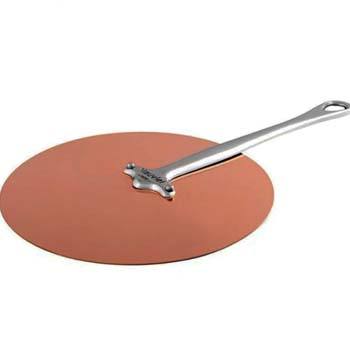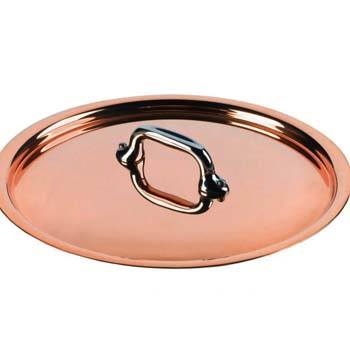 images of both sides from the website
Handles & Rivets
The available handle options vary depending on the collection, including bronze, stainless steel, carbon steel, copper, and wood. Stainless steel is the typical material used for rivets, with the exception of the M'Passion & M'Tradition lines, which feature copper rivets.
Images of handles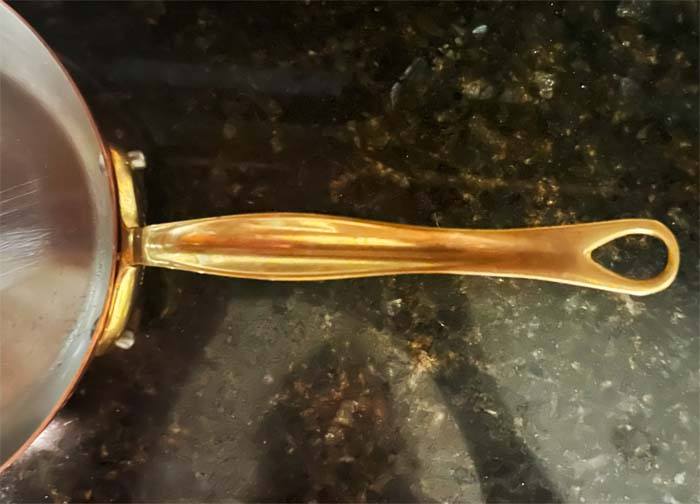 The Heritage line offers handle material options, including bronze, stainless steel, and carbon steel.
The handles on the M'6S are made of stainless steel.
The M'Tradition handles are available in either bronze or stainless steel.
The M'Passion line offers products with pure copper, bronze, or wood handles.
The M'Minis collection includes handles made from either stainless steel or copper, depending on the specific item.
Do the handles get hot?
Handles made of bronze, copper, and carbon steel can become hot when placed on the stovetop. Handles made of stainless steel and wood have the ability to resist heat and remain cool when placed on the stovetop. It should be noted that all handles will get hot when the cookware is placed in the oven.
Chart: Mauviel Copper Cookware Material, Thickness, and Heat Source Compatibility
| Collection | Material | Handles Material | Rivets Material | Thickness | Induction Compatible? | Oven Safe? |
| --- | --- | --- | --- | --- | --- | --- |
| M'Heritage 150 S | 90% copper, 10% stainless steel | Stainless Steel | Stainless Steel | 1.5 mm | No | Yes |
| M'Heritage 150 B | 90% copper, 10% stainless steel | Bronze | Stainless Steel | 1.5 mm | No | Yes |
| M'Heritage 150 CI | 90% copper, 10% stainless steel | Cast Iron | Stainless Steel | 1.5 mm | No | Yes |
| M'Heritage 200 B | 90% copper, 10% stainless steel | Bronze | Stainless Steel | 2.0 mm | No | Yes |
| M'Heritage 200 CI | 90% copper, 10% stainless steel | Cast Iron | Stainless Steel | 2.0 mm | No | Yes |
| M'6S | Six layers of aluminum, magnetic stainless steel, and copper | Stainless Steel | Stainless Steel | 2.7 mm | Yes | Yes |
| M'Tradition | Tin-plated copper, hammered & polished exterior | Bronze or stainless steel | Copper | 2.0 to 3.5 mm | No | Yes |
| M'Passion | Copper, some are lined with tin | Copper, bronze, or wood | Copper | varies | No | Yes |
| M'Minis | 80% stainless steel, 20% copper | Bronze or stainless steel | Stainless steel | varies | No | Yes |
Mauviel Copper Products Features and Care Information
Can Mauviel Copper Products Go in the Oven?
Yes, but there's a maximum temperature recommendation for cookware with tin interiors. Cookware with a tin lining should not be placed in ovens with temperatures higher than 460° F (237° C) as it can cause blistering of the tin. This will require the cookware to be re-tinned.
Stovetop Use Recommendations
Mauvile copper cookware is versatile and can be utilized on various stovetops, including gas, electric, halogen, and induction (if compatible). However, it's essential to follow the recommended guidelines.
Heating cookware excessively can lead to damage, resulting in deformities or color changes in the bottom of the cookware, such as blue or yellow. The company suggests utilizing low to medium heat, equivalent to 2/3 of the maximum heat, and avoiding prolonged usage of high heat.
It is important to ensure that the flame does not extend beyond the base of the pan when cooking on gas.
It is not recommended to cook salted dishes in raw copper. Salted cooking can lead to the formation of verdigris, which is the result of utensil oxidization.
Using metal utensils on non-stick cooking surfaces is not recommended as it may cause damage and result in food sticking to the surface.
Induction Compatibility
An induction disk containing magnetic stainless steel is required to use copper cookware on an induction stovetop, except for the M'6S collection, which is already induction compatible.
Are Mauviel Copper Pans and Pots Nonstick?
Yes, most of the products in the copper collections are. Mauviel copper cookware products are often lined with tin or other non-stick material, as copper itself is not naturally nonstick.
Is it Safe to Put Mauviel Copper Cookware in the Dishwasher?
No. It is recommended to only handwash as the cleaning products typically used in these appliances may harm the copper.
How to Clean Mauviel Copper Products
Below are some suggestions for cleaning and maintaining this cookware to ensure its longevity.
To clean, use warm, soapy water and a sponge with a scratchy side, followed by wiping away any remaining water droplets.
Avoid using bleach or cleaning products that contain bleach. This substance is corrosive and has the potential to cause permanent harm to the product.
It is advised to avoid using scouring pads, steel wool, abrasive cleansers, or oven cleaners on cookware, as they have the potential to scratch or damage the surface.
To remove stuck-on food from pots and pans, it is recommended to soak them in hot soapy water.
The company suggests using its product, Copperbrill, to restore and polish surfaces to their original shine, but several other good alternatives exist.
To learn more, refer to my previous article on copper cookware, which details cleaning and polishing options for copper.
Mauviel Products Manufacturer Information
Who Produces Mauviel Copper Pans and Pots?
Mauviel is a cookware company founded in 1830 and located in Villedieu-les-Poêles, France. The company remains under family ownership and is currently managed by its sixth generation.
Where is the Mauviel Cookware Made?
Mauviel copper products are produced in the town where the company was established in the Normandie region of France. The products are made with top-quality copper, which has earned them a reputation as some of the finest in the world.
How to Pronounce Mauviel
The English phonetic pronunciation of the French word "Mauviel" is "MAW-veey-el".
Here's a video to listen to it.
Mauviel Cookware Warranty Coverage
Mauviel offers a warranty for production defects that lasts for a lifetime. The company's policy is to address defects in material, construction, or workmanship by repairing or replacing the affected item.
Requirements
Invoice, order confirmation, or purchase receipt
Covers
Use in a residential environment.
The product should be maintained as instructed by the company.
Excludes
Commercial use
Damages due to misuse or abuse
Daily wear and tear
Re-tinting of tin line
Mauviel Cookware Purchase Information
Prices & Discounts
Mauviel copper cookware is perfect for chefs who crave precision and accuracy in their cooking. This cookware is also incredibly durable, so it can be used on a daily basis without fear of wear or tear. As one might expect, this quality comes at a price tag.
This cookware can vary in price depending on the size and style, with some pieces costing hundreds or even thousands of dollars. For example, The Mauviel Heritage M150B 4.7-inch Round Pan is currently the least expensive copper pan on the company's website, and it's priced at approximately $160.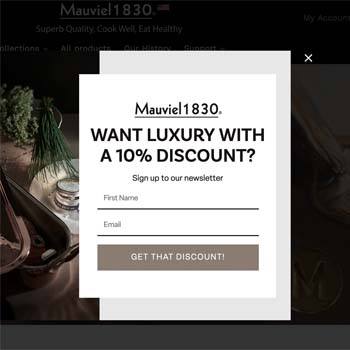 Fortunately, seasonal discounts and coupons are available for those who are price-conscious. Mauviel provides a 10% discount to individuals who subscribe to their newsletter. When first accessing the website, a pop-up appears inviting the visitor to sign-up. Be sure to take advantage of this deal.
Where to Buy Mauviel Cookware
New Mauviel cookware is sold at several high-end kitchen stores, like Williams Sonoma and Crate and Barrel, and can also be found on various online websites, including Amazon, Cutlery and More, and Kitchen Universe. Some stores may offer exclusive models.
The company's official website, mauviel-usa.com, offers a wider range of products to choose from.
eBay may be your best choice if you are looking for used or vintage Mauviel copper products.
Main Competition
Mauviel faces competition from high-end and expensive brands in the copper cookware industry, particularly in the Heritage and M'6S product lines, with the former containing 90% copper and the latter being induction compatible.
There are various companies such as Matfer Bourgeat, Made In, Brooklyn Copper Cookware, Duparquet Ruffoni, and Williams Sonoma that produce products that rival the Heritage line, with some being thicker than 2mm.
In the induction-compatible market, All-Clad is a major competitor. The main distinguishing factor between Mauviel's M'6S collection and the All-Clad Copper Core Stainless Steel is the placement of the copper layer. In the M'6S alloy, the copper layer is located at the bottom or exterior of the cookware, whereas in the All-Clad Copper Core, it is in the core of the product.
Conclusions
Consider purchasing Mauviel products if:
You would like to cook with pans and pots used by celebrity chefs such as Rachael Ray and Anthony Bourdain.
You want high-quality amazing-looking cookware.
You are willing to invest money in lasting products that provide outstanding heat retention and distribution.
You want to own cookware hand-crafted in France by a world-renowned company.
You are looking for induction-friendly cookware with copper exterior and base.
Buy other brands if:
You have a limited budget. Mauviel cookware is expensive.
You are looking for copper pans with a thickness of over 2mm.
You like a more vintage, old-fashioned look. In this case, Ruffoni copper cookware is a better choice.
You want to own cookware made in the USA.
You prefer induction-compatible cookware that has stainless steel base.