Regular cast iron pans and pots are heavy and durable, but they can rust, and, except for shades of black, you won't find any other color options. Enameled cast iron products are beautiful and make any kitchen look great. However, the nice looks come with a price tag.
So, should you spend the money and buy that beautiful cookware with enamel coating or stay with the less expensive bare ones? We hope this detailed piece of content comparing both types helps you make the right decision.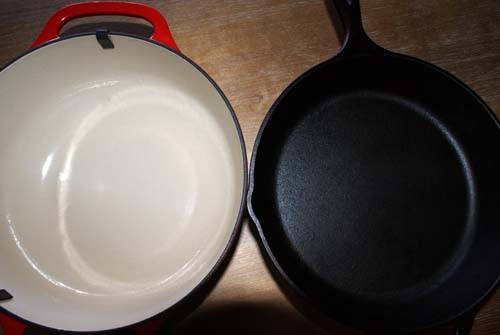 What is enameled cast iron cookware?
Cast iron is an alloy that contains less than 98% iron content and more than 2% of carbon. Making traditional cast iron products involves melting this alloy and pouring it into molds where it cools and solidifies. Cast iron's best attributes are its superior heat retention and durability. Traditional cast iron skillets and pots are great for cooking with high heat.
Here is a long and detailed article about standard cast iron cookware we have previously written.
Enameled cookware has a solid cast iron core like regular pans and pots, but it is additionally coated with a layer of porcelain enamel that protects its surface from rusting and gives it a long-lasting shine. It also makes it easier to clean than the standard cast iron option. Enameled cast iron is also known as hard enamel because it is very durable and doesn't chip easily.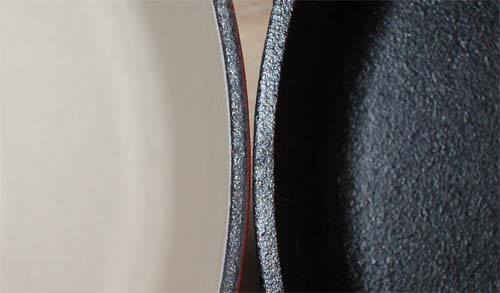 Differences & Similarities Between Enameled Cast Iron & Cast Iron Cookware
There are a few advantages of enameled cast iron over raw cast iron. For example, the first ones do not rust or present the risk of leaching toxins into the food. A few of the cons of cast iron cookware without enamel are that they cannot be used on open fire grills, and they are not metal utensil friendly.
Here's an in-depth comparison of both types so you can decide which is the best for you.
Materials Used
As we mentioned earlier, raw cast iron products are made from a combination of iron and carbon. Enameled cookware core material is the same; the only difference in the construction is the addition of a protective layer made of porcelain glass.
Need for Cast Iron Seasoning
Bare cast iron products require seasoning to become naturally non-stick. You only need to season non-enameled cast iron skillets. Thanks to the coating, enameled pieces do not need seasoning.
Is Cast Iron Safe?
Traditional cast iron pans are known for being reactive to acidic foods and leaching small amounts of iron into the meals, potentially becoming toxic to people genetically predisposed to iron poisoning.
The porcelain layer that covers enameled cast iron pieces prevents the iron from leaching into the food, making this type of cookware 100% safe for cooking.
Price Difference
The enameling process can add considerable cost to the cookware. The price difference between non-enameled and enameled products can be significant. For example, below are the product prices taken from Lodge's official website for bare and enameled lodge dutch ovens at the time of writing. Note that the prices may change, but unless the enameled process gets cheaper, the differences will likely prevail percentage-wise.
| Lodge Dutch Oven Type | Size | Current Price (USD) | Average Price Per Quart (USD) |
| --- | --- | --- | --- |
| Regular Cast Iron | 5 qt | 54.95 | 10.99 |
| Enameled Cast Iron | 4.5 qt | 79.95 | 17.77 |
Strength & Durability
Cast Iron cookware is so sturdy and long-lasting that they usually remain in kitchens for generations.
Cast iron enameled cookware is also very durable, but the enamel coating is easily damaged by improper handling. The enamel coating may crack, break, chip, peel off, or flake away from parts that are mishandled, overheated, or subjected to thermal shock.
Are They Non-Stick?
Classic cast iron pans and pots are not non-stick out of the manufacturing line. There is a process called seasoning that helps make them naturally non-stick. This process consists of applying a thin layer of oil to the surface of the castings and then placed in a heated oven at about 350°F (175 °C) for several hours. During this time, the oil evaporates, leaving behind a film of rust inhibitor that bonds to the metal and makes the cast iron surface non-stick.
Food made on enameled cast iron pans usually sticks unless cooking oils are used. The layer of enamel coating is not inherently non-stick.
Heat Source Compatibility
Bare cast iron products handle heat well. They are versatile and can be used on any heat source without any issues. Thanks to their cast iron core, enameled pieces have high heat resistance too, but the coating is not compatible with all heat sources. The impact of intense heat from fire flames on the porcelain layer can make it crack or break. That's why any direct heat impact on the porcelain, such as campfire cooking or grilling, should be avoided.
What to Cook
Enameled cast iron is better used for preparing stews, soups, and casserole dishes. It's also great for baking bread. These pieces offer an outstanding cooking performance. You can use them for any cooking project. The only important exceptions are grilling or cooking on an open fire. The direct impact of flames can damage the enamel.
An extra valuable function that the enameled products offer and bare don't is the possibility of marinating, serving, and refrigerating food.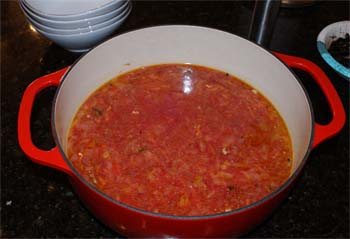 Bare cast iron is better for preparing a perfect steak and outdoor and campfire cooking.
Enameled and non-enameled cast iron pieces allow the cooking of almost everything you want. You can broil, sauté, fry, braise, bake, roast, and simmer all types of meals.
Because bare cast iron tends to rust or get damaged when staying wet for some time, keeping any meal on the pans or pots after the cooking process has finished is not recommended.
Style, Colors, and Design Options
Design options and cookware type availability are the main differences between enameled and non-enameled products. On the one hand, regular cast iron looks vintage or rustic and is only produced in shades of black. These products are very valuable as a kitchen workhouse, but, except for a traditional or antique look, they don't offer many design features or variety. The types of cookware available are usually minimal, consisting mainly of skillets, griddles, and dutch ovens.
On the other hand, enameled pieces are offered in a great assortment of types and colors. The vitreous enamel coating can be tinted in as many colors as the manufacturer is willing to release. For example, Lodge and Tramontina's dutch ovens come in nine shades, and Le Creuset's high-quality cast iron cookware is produced in twenty-two hues.
Unlike bare cast iron options, you can find a variety of cookware types with cast iron enamel. These kinds include but are not limited to skillets, grills, griddles, casseroles, saucepans, braisers, and frying pans.
An extra plus for enameled options is that, unlike the bare models, they can also be used to serve and refrigerate food. The beautiful coating and glossy finish, plus the availability of cast iron cookware types including matching color sets, make these pieces a must-have in every modern kitchen.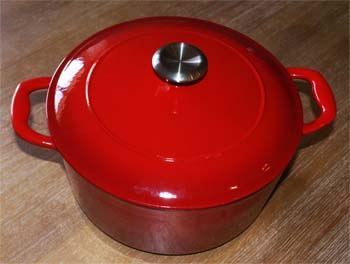 Cleaning & Care
Cast iron care and maintenance vary slightly depending on whether the cookware is enameled. Unlike seasoned cast iron pan cleaning, the enameled options have lesser maintenance requirements. Let's see what type of care they need.
Standard cast iron pans and pots:
Are not dishwasher-safe. The dishwasher soap and citric cleaners destroy the seasoning.
They must be dried thoughtfully as soon as they are washed to prevent rust.
Allow the use of metal utensils when cooking.
Ideally should be washed with warm water using nylon scrubbers or flat silicone scrappers.
Can be cleaned using only a paper towel.
Enameled cast iron pans and pots:
Can be put in a dishwasher but with care because citrus-based cleaners can discolor the cookware.
Do not rust, so it's not necessary to rush to dry them.
Can be cleaned with warm soapy water using soft non-metallic scrubbers to remove stains.
Are not metal utensil-friendly. The metallic tools can damage the coating.
Differences vary depending on product size, but from this example, you can see that the enameled options can be 60% more expensive per quart than the regular ones.
Enameled Cast Iron Vs. Cast Iron Summary Chart
| | Bare Cast Iron | Enameled Cast Iron |
| --- | --- | --- |
| Material | Less than 98% iron, more than 2% carbon | Same as bare cast iron plus porcelain glass layer inside and out |
| Durability | Lifetime but can develop rough edges over time | Enamel is prone to chip and stain |
| Can Rust? | Yes | No |
| Oven Friendly? | Yes, up to 2000°F (1090°C) | Yes, up to 500°F (260°C) |
| Is Induction Compatible? | Yes | Yes |
| Grill Friendly? | Yes | No |
| Open-Flame Friendly? | Yes | No |
| Colors Options | Shades of black | A great variety of colors available |
| Can it be used to store food in the fridge? | No | Yes |
| Common Types Available | Skillets, dutch ovens, griddles | Skillets, dutch ovens, griddles, casseroles, saucepans, braisers, frying pans |
| Non-stick? | Yes, after seasoning. | No, in most cases may require oil |
| Can Be Toxic? | Releases small doses of iron into food | No |
| Dishwasher Safe? | No | Yes, but not recommended |
| Clean With | Soap, silicone scrubbers, dry very well | Warm water and soap |
| Needs Seasoning? | Yes | No |
| Can Use Metal Utensils? | Yes, but it may need re-seasoning | No |
| Better for Cooking | Almost everything. Excellent for searing steaks and outdoor and camping cooking | Everything. Great for stews, soups, and other casserole dishes. Baking bread |
| Avoid Cooking | Acidic foods | Open fire and camping cooking |
| Affordable Brands | Lodge | Lodge, Tramontina |
| High-end Brands | Butter Pat, Finex | Le Creuset, Staub |
| Price | Usually pretty affordable | Average 30 to 60% more expensive than the traditional cast iron products |
Essential Enameled Cast Iron Pieces of Cookware
Enameled cast iron pots and pans are beautiful and versatile and come in a great variety of sizes and models to help you boost your food cooking experience. Here are some essential pieces you may want to add to your kitchen.
Skillets
A skillet is a cooking container for baking, frying, and sautéing. Enameled cast iron skillets can be purchased with or without a lid. Types of skillets include frying pans, grilling pans, and sauté pans. Skillets are best suited for cooking foods such as eggs, pancakes, omelets, stir-fries, fajitas, and other items that require shallow heat.
Dutch Ovens
A Dutch oven is a heavy-duty pot explicitly designed for slow cooking. The most common Dutch oven type is the enameled cast iron dutch oven with a lid that fits tightly over the top. This design allows for even heating and easy cleanup.
Cast Iron dutch ovens are made in several sizes, from small to large. The size of the pot, measured in quarters, is determined by how much food you want to cook at one time and how long it will take to heat up.
Braisers
Braisers are casseroles that simmer meat, poultry, or fish in liquid. Braising is often used to make tough cuts of meat tender and flavorful. It is also used for dishes such as pot roast, braised veal shanks, beef bourguignon, and cassoulet.
Porcelain Enamel Cast Iron Brands
Many brands such as Lodge, Le Creuset, Tramontina, Cuisinart, Staub, Pampered Chef, Crock Pot, Martha Stewart, and Pioneer Woman produce and sell porcelain enameled cast iron products.
The most popular enameled cast iron brands, such as Lodge and Tramontina, tend to be also the most affordable. The most popular high-end brands are Le Creuset and Staub.
Sample Price Comparison: Enameled Cast Iron Cookware Vs. Bare Cast Iron Products
Enameled cast iron product prices vary considerably depending on the brand's perceived quality. For example (all prices in US Dollars), an 11″ Enameled Lodge skillet costs approximately $80, a similar-sized Le Creuset product costs around $ 220, and Staub's is about $190.
Regular cast iron products tend to be cheaper on average than enameled products. Lodge, the most popular cast iron American-made brand, sells its 10″ skillet for approximately $24.
Not many brands sell high-quality bare cast iron skillets and dutch ovens. Butter Pat is an example of this category, with current prices around $215 for a 10″ skillet. Finex 14″' seasoned cast iron skillet with lid costs $370.
Note that the numbers in this article are examples of prices when this content was last updated. The time of purchase will likely influence the product pricing. You may find significant differences or bargain prices from time to time, for example, during Black Friday or when a brand's product line is updated.