Lodge and Tramontina are two of the most popular brands in the world. They both have been around for decades and have a high reputation among kitchen product users. They also produce and sell cast iron cookware that is very similar in size, style, and performance, making buying decisions hard for the average shopper. I'm here to help you ease your decision process.
You may be asking yourself which Dutch oven these brands produce is a better deal. In this article, I'll try to answer your question. I'll begin by running some performance tests and then comparing several product features.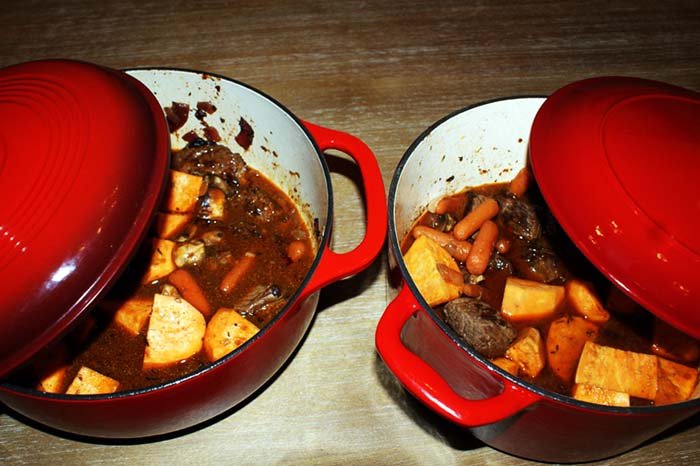 I hope the test results and product information included in the following sections help you pick the best option for your cooking style and needs. If you are not interested in the test conclusions, you can use the links below to jump into the feature comparison.
In this detailed analysis, I'll go into the following subjects:
The products we are comparing
Which oven retains moisture better?
Which one retains heat longer?
Which oven heats up faster?
Which one distributes heat more evenly?
Sizes & Shapes
Colors
Size, Shape, & Color Options Charts
Handles
Lids & Knobs
Dimensions & Weight
Base & Walls
Product Brochures
Companies information
Warranties
Where are the Dutch ovens made?
Tramontina Vs. Lodge Dutch Ovens Cooking Performance Tests
About The Products We Are Comparing
As you'll realize later in this document, comparing these products side-by-side is difficult because these brands don't produce Dutch ovens with the same capacity. Considering this limitation, I'll compare models with similar capacities (6 and 5.5. quarters) and perform tests where the 0.5-quarter difference is not likely to significantly influence the results.
Below are the details of the two products I'm testing:
Lodge Dutch Oven
Tramontina Dutch Oven
Material
Enameled Cast Iron
Enameled Cast Iron
Model
EC6D43
80131/047DS
Shape
Round
Round
Capacity
6 quarts/5.6 Liters
5.5 quarts/5.20 Liters
Wall Thickness
0.17 inches
0.20 inches
Pan Weight (no lids)
8 lbs. 8.85 oz. (3877 grams)
8 lbs. 12.5 oz. (3986 grams)
Lids Weight
4 lbs. 9.1 oz. (2072 grams)
3 lbs. 10 oz. (1645 grams)
Total Weight
13.1 lbs. /5.95 kg.
12.4 lbs./5.62 kg.
Average lbs. per Quarter
2.183
2.254
Measurements
Width Including handles, 13.6″. Without handles or lid, 11″. With lid, no handles, 11.4″.
Height Without lid, 4.7″. With lid, 7″.
Width Including handles, 13.25″. Without handles or lid, 10.20″. With lid, no handles, 10.4″.
Height Without lid, 4.9″. With lid, 7.25″.
Test 1 – Which Oven Is Better at Retaining Moisture?
This test tried to measure which brand product locks in moisture more efficiently.
The test:
To perform this test, I prepared a meal similar to this one, including several food ingredients and water. In each oven, I put identical amounts and quality of beef, carrots, sweet potatoes, sweet peas, and onions together with 2 cups (16 ounces) of water. I then placed both Dutch ovens beside each other inside my kitchen oven and cooked the food for 70 minutes.
The results:
At the end of my test, the Lodge Dutch oven had 2 and 1/4 cups (over 500ml) of liquid, and the Tramontina oven had just a little over 2 cups (500 ml). Cuts of meat from both ovens were tender and succulent, which is expected from food cooked under high moisture levels.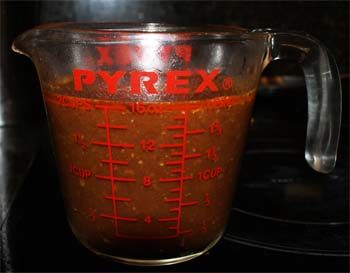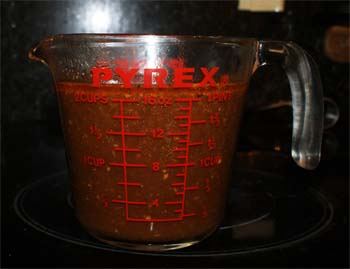 The winner: The Lodge Dutch oven traps moisture better.
Test 2 – Which Oven Keeps Food Warm For Longer?
In this experiment, I intended to asses which oven retains heat better.
The test:
I began running this test right after the previous one. The test consisted of taking both Dutch ovens out of the kitchen oven simultaneously and then waiting for 30 minutes before measuring the temperature of both meals to see which one kept the food warm the longest.
The results:
After half an hour, the food temperature in the Lodge Dutch oven was 165°F (74°C), and the temperature in the Tramontina was 172°F (78°C).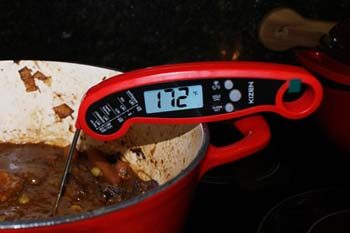 The winner: The oven with superior heat retention was the Tramontina.
Test 3 – Which Oven Heats Food Faster?
This test consisted of determining which oven heats meals and liquids faster.
The test:
I put four cups of a similar mix of broth and water in each Dutch oven and placed the latter on the stove on medium heat (without lids). I then measured the time, in seconds, that it took the liquid in each oven to reach 150°F (65°C).
The results: The mix in the Lodge oven reached 150°F in 9:04 seconds, while the one in the Tramontina achieved the temperature goal in just 7:53 seconds.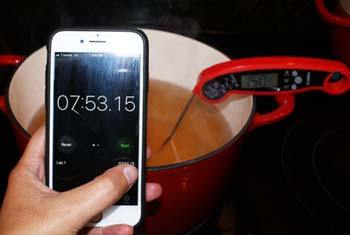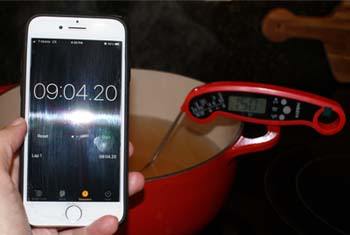 The Winner: The Tramontina Dutch Oven warmed up ingredients faster.
Test 4 – Which Oven Has Better Heat Distribution?
This test tried to measure which oven is the best at distributing heat.
The test:
In each pot, I put two cups of water mixed with two diluted spoons of starch to give the liquid some thickness. Then I placed the ovens on the stove on medium heat and looked for bubbles when the mix began boiling.
The results:
Boiling bubbles in the Tramontina oven showed up evenly distributed around the entire surface. In contrast, bubbles in the Lodge oven were concentrated in the 80% center area and were not present close to the walls.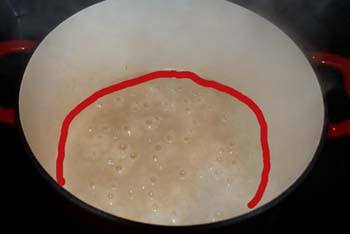 The winner: The Tramontina oven distributed heat more evenly.
Tests Outcome Chart
| | Lodge Dutch Oven | Tramontina Dutch Oven |
| --- | --- | --- |
| Highest Moisture Retention | Winner | |
| Stays Hot Longer | | Winner |
| Heats Up Faster | | Winner |
| More Even Heat Distribution | | Winner |
Lodge vs. Tramontina Cast Iron Design Features Comparison
In this section, I'll detail the specifications and product design variety for both Dutch oven alternatives. Picking one of these products is not easy because they are very similar in quality, and the two options have affordable prices. Also, both brands use high-quality materials that will likely last a lifetime. Your final choice will likely depend on your preference for some specific design feature or style look.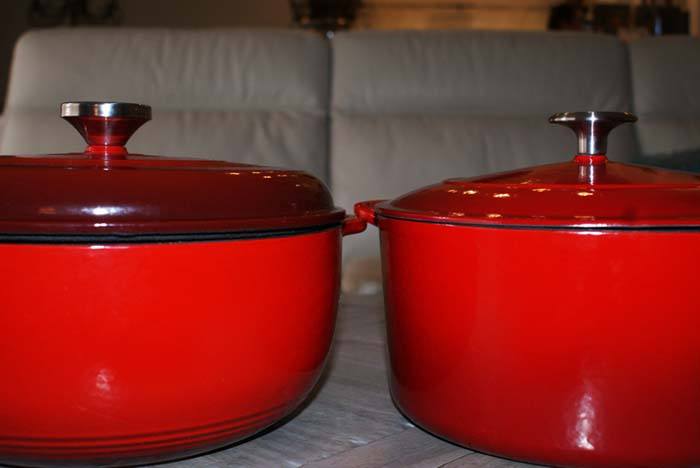 Round, square, or oval? Big or small? Solid or gradient color? Lodge and Tramontina have managed to offer a world of possibilities for shoppers.
Both brands sell quality and well-designed Dutch ovens that are not only sturdy and robust but also visually attractive. They'll indeed look great in your kitchen.
Let's go through each brand's features so you can pick your favorite oven.
Sizes & Shapes
Both brands sell ovens with several capacities but Lodge offers one more size option than Tramontina. If you are looking for a tiny oven (1.5 qt), Lodge is your only choice.
When talking about shape choices, Tramontina is the winner. This company not only offers the traditional round and oval ovens, as Lodge does but also has tall and square models.
Here are the shapes and capacities each brand produces:
Tramontina – round 3.5 qt, 5 qt, 6.5 qt, 7 qt – tall 7 qt – square 7 qt.
Lodge – round 1.5 qt, 3 qt, 4.5 qt, 6 qt, 7.5 qt.
Both brands offer 7 qt oval-shaped Dutch ovens.
Colors
You'll love the exterior enamel color options for sure, and there are so many! There are tons of solid color choices, from the traditional blue, white, and red to some bright yellows and teals. There are also great-looking alternatives in light-to-dark gradient finish.
Tramontina has a few more exterior hues and also offers two options for knobs, silver or golden, with some ovens. Whatever your color of choice is, you'll likely find that hue or a similar shade.
The interior enamel color is similar in all ovens and typically comes in beige or sand.
It's important to note that you may find some minor surface imperfections. This is normal for cast iron, and you should not worry about them.
Size, Shape & Color Options Charts
| Shape | Sizes | Colors |
| --- | --- | --- |
| Round | 1.5, 3, 4, 5, 6, & 7.5 qt. | Gradient: blue, cornflower blue, gray, indigo, lagoon, midnight chrome & red. Solid: oyster, dessert sage. |
| Oval | 7 qt. | Solid oyster, gradient red. |
| Shape | Sizes | Colors |
| --- | --- | --- |
| Round | 3.5 qt. | Solid: gray, teal. Gradient: red, cobalt. |
| Round | 5.5 qt. | Solid: sunrise, matte white, medium blue, dark blue, majolica red, latte with stainless steel knob, blue with a gold knob. Gradient: red & cobalt. |
| Round | 6.5 qt. | Gradient: cobalt, red, gray, blue, teal. |
| Round Tall | 7 qt. | Solid: sunrise, red, basil, classic blue, classic blue with a gold knob, latte, latte with a gold knob, basil. |
| Square | 7 qt. | Solid: matte teal, matte white, matte gray. |
| Oval | 7 qt. | Gradient: cobalt & red. |
Handles
Lodge handles have small openings. Tramontina's oven has larger handles. Lodge handles are wide and straight while Tramontina's are round. Tramontina is better for people with big hands that need a firm grip because they have large openings. Below I have included a picture of both handles for you to compare.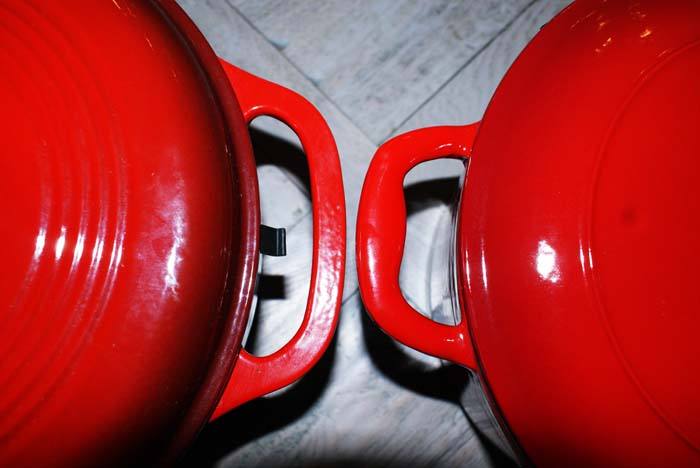 Lids & Knobs
These products are designed to make cooking easy and retain as much moisture as possible. The Lodge oven has a heavy lid that locks into place, while the Tramontina has a tight-fitting lid. Heavy and tight-fitting lids are great for preventing moisture loss. This feature makes it easy to prepare food without worrying about losing any steam.
Tramontina's oven has lids with self-basting ridges that are supposed to keep moisture more efficiently. Yet, as you can read in the moisture retention experiment I did, this feature does seem to give any advantage over its competitor's product. The Tramontina oven didn't win the moisture retention test.
Regarding knobs, the main feature difference is not functional but visual. Lodge has stainless steel knobs with the brand logo printed on them. Tramontina offers knobs in gold, in addition to the stainless steel option, but none of these alternatives have any logos or stamps on them.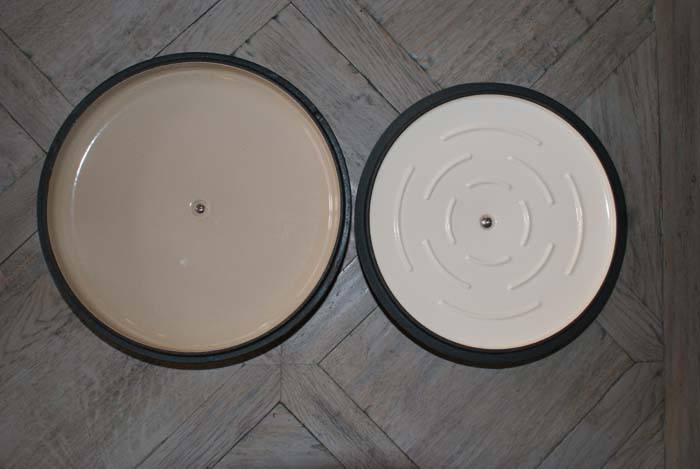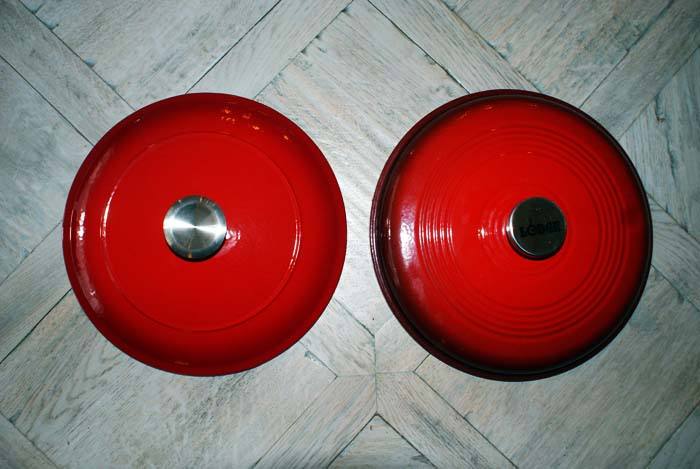 Dimensions & Weight
The information included here is based on the two models we compared and tested. The full description of the models is included in the section "About the products we are comparing" at the beginning of this article.
As expected, Dutch ovens weigh a lot because cast iron is a heavy material. You must be careful when cooking because these ovens can be hard to lift and maneuver.
I measured and weighed the 6 qt Lodge and 5.5 qt Tramontina ovens. Here are the conclusions regarding weight:
The Tramontina pan was a few ounces (about 3.5 oz) heavier than the Lodge, not including the lid.
The Lodge's lid was almost one pound heavier than the Tramontina's lid.
The Lodge was 11 oz heavier than the Tramontina, including all parts.
The Tramontina was barely heavier than the Lodge per quarter of capacity.
Regarding dimensions:
The Tramontina oven was 0.2 inches taller than the Lodge (4.9″ vs. 4.7″)
The Lodge oven was 0.35 inches wider than the Tramontina (13.6″ vs. 13.25″)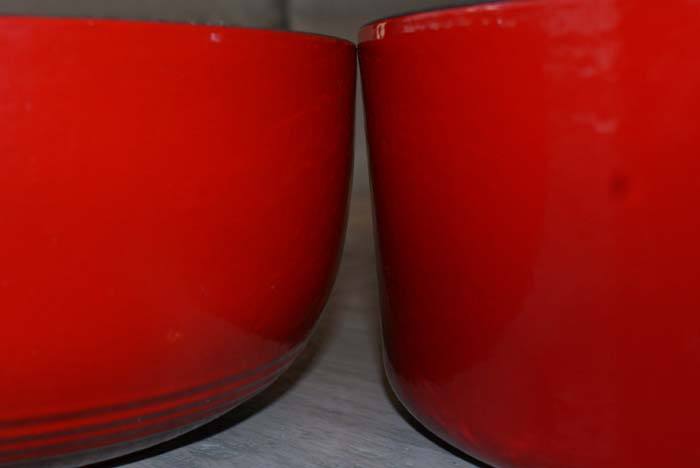 As you can notice from the measurements above, the differences in weight and dimensions are not considerable. These slight differences are unlikely to influence your decision process unless your space for storage or your cooking space is minimal.
Walls & Bases
The Lodge oven has thinner walls than the Tramontina, 0.17 inches vs. 0.20 inches.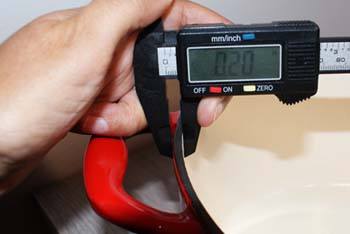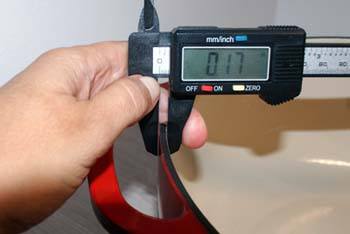 The Lodge model has a smaller base (7″ vs. 8.25″ wide). There is also a remarkable design difference where the side walls reach the bottom. The Tramontina oven's base and walls are joined at an almost straight 90-degree angle, while Lodge's joint is curved. This may be why my heat distribution experiment didn't show bubbles distributed close to the walls in the Lodge product but displayed bubbles evenly distributed around the entire surface in the Tramontina.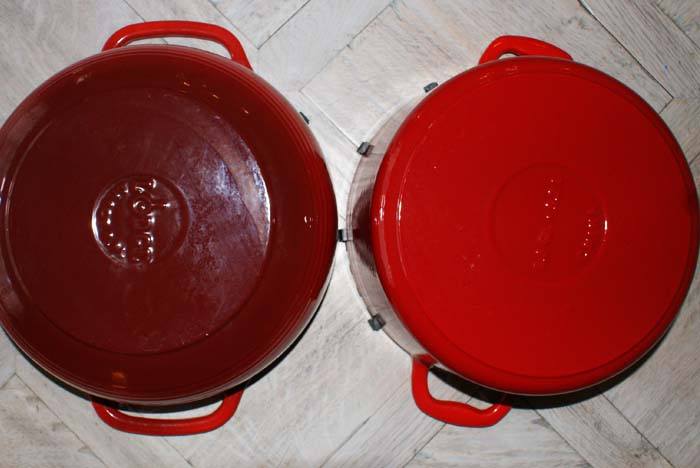 Product Brochures
Here are the brochures that come with these products for you to download:
Manufacturer Comparison
In the previous sections, I ran some tests, included the results, and described the products' features in detail. Now to continue with the comparison process, let's talk a little about the manufacturers, the warranties, and the places where these products are made.
Companies Background
Here's an overview of each company:
Lodge Manufacturing Company
Lodge is an American company founded in 1896; it has been operating continuously for over 125 years. It's one of the oldest cast iron cookware manufacturers in the world. The company is family owned and operated, and its headquarters are in Tennessee, USA.
Tramontina S.A
Tramontina is a Brazilian company founded in 1911. It has been producing and exporting affordable cookware, cutlery, and home appliances worldwide for over 110 years. The company headquarters are located in Rio Grande do Sul, Brazil.
Product Warranty
Both companies know that they produce quality cast iron cookware, so they are happy to offer cookware sets with a limited lifetime warranty. Warranties are very similar:
Both Dutch oven warranties cover the following:
Products from the time of purchase for the lifetime of the original purchaser.
Production flaws.
Defects due to everyday residential use as long as proper care instructions are followed.
They do not cover the following:
Damage due to commercial use.
Second or consecutive owners.
Small cosmetic defects or slight color dulling.
Minor imperfections that don't affect the performance of the product.
Abuse, overheating, improper cleaning, or maintenance.
If the products are defective, they'll fix or replace them for free. If fixing is impossible or the products are no longer available, you'll get a similar product.
You can find each product's complete warranty information in this article's brochures included earlier.
Where are the Dutch Ovens Produced?
Enameled Dutch ovens from both brands are produced in factories located in China. If you are looking for a product made in the USA, Lodge's bare cast iron is the oven for you.
Which Brand is The Most Affordable?
It's difficult to compare the prices of ovens side-by-side because, except for one size, these brands don't produce ovens with the same capacity. The only product fabricated in the same size is the 7qt oval-shaped oven, so we'll compare this one.
When this article was published on the factories' official websites, the Lodge oval 7qt list price in US dollars was $99.90, 17% less than the Tramontina, which was $119.95.
However, it's important to note that these items go on sale very often, and many times you'll be able to find the 7qt Tramontina oven at lower prices than the Lodge or vice versa.
For example, when I bought the ovens that I tested, the factory list price for the 6qt Lodge was $89.95 and the sale price was $79.90, but on a different website, it was on sale for $59.99.
The Tramontina I got was a $79.95 list price on the company's website and $69.95 on a different site.
Considering that usually the price differences are not significant and sales are frequent, I suggest you pick the brand you like the most based on your favorite Dutch oven design and features and then look for prices at different stores. You'll likely find a good deal at some point.
It's important to note that these brands are budget options that offer outstanding value if compared to the most expensive brands like Le Creuset, which can easily cost four times more.
General Characteristics of Enameled Cast Iron Dutch Ovens From Both Brands
Because of cast iron's magnetic properties, these ovens are induction-compatible.
Contrary to the bare cast iron Dutch ovens, the enameled ones do not require seasoning.
The enameled products are dishwasher safe, but generally, it is better to wash them by hand because the dishwasher detergent can stain the enamel coating and make the color dull.
These enameled products are safer for glass stove surfaces than the bare cast iron option.
These ovens have superior heat retention properties
Please review this article for additional enameled cast iron vs. bare cast iron comparisons.
Other Dutch Oven Options Offered In Addition to Enameled Cast Iron
In case you are interested in other options, besides the enameled products I have been writing about, both companies also produce and sell Dutch ovens made from the following materials:
Lodge: bare cast iron, with no enamel.
Tramontina: stainless steel and ceramic-coated aluminum.
If your Dutch oven choice depends on their oven-safe temperatures, here are the maximum factory-recommended oven temperatures for other types of cookware:
Lodge: bare cast iron 500 °F (260 °C) enameled cast iron 500 °F (260 °C).
Tramontina: enameled cast iron 450 °F (232 °C), aluminum 350 °F (177 °C), stainless steel 500 °F (260 °C).
What's the Best Choice for You?
To recapitulate the information included in this article, and help you with your final purchase decision, here's a summary of the most important product features:
What ovens from both brands have in common:
They are both budget heavyweights and high-performing Dutch ovens that offer great value for your money.
Prices are not significantly different, and usually, several sales are running.
Factory warranties are alike.
Both brands manufacture these products in China.
Both my tests where I cooked meat stews resulted in thick stews and tender meat.
Small details that can make a big difference for you:
If you are picky about performance, Tramontina is your brand. Even when the results were not significantly different, the Tramontina oven won most of my performance tests.
If you are looking for more design options, including a great variety of colors and several shapes, Tramontina is the way to go.
If you have big hands, Tramontina has larger handles to help you get a firm grip for your fingers.
I have shown both Tramontina and Lodge ovens to my friends and family, and, in most cases, they have picked the Lodge looks.
Suppose you are looking for a 1.5 qt. oven, Lodge is the only one of these two brands that produce them.
Pick Lodge if you want to buy from a company with over a century of experience and specialization in producing cast iron products.